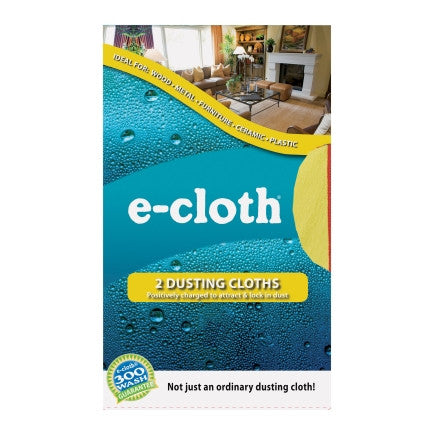 E-cloth Dusting Cloths (2)
The e-cloth dusting cloth has a natural positive static charge that attracts dust and allergens locking them into the super soft 1.6 million microfibers per square inch. The pack contains two cloths, perfect if you want to keep one handy upstairs while always having a cloth conveniently available downstairs.  No need for dusting sprays or chemicals, the e-cloth dusting cloths work dry without the use of water or additional dusting chemical products. 
With e-cloth you save time (no need to spray and then wipe) and money (no need to buy expensive dusting refills), while enjoying better results and being kind to our environment and your family's health (since cleaning chemicals can create health risks for children and those who may suffer from allergies, asthma and chemical sensitivities). E-cloths can be washed 300 times and still retain their unique cleaning properties.  If you wash your e-cloth once per week, it should provide you with six years of money- and time-saving benefits.