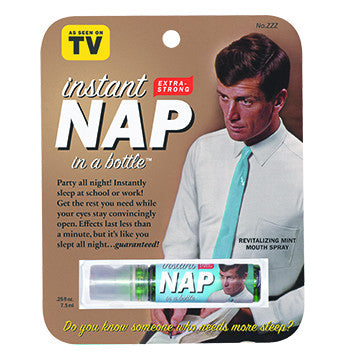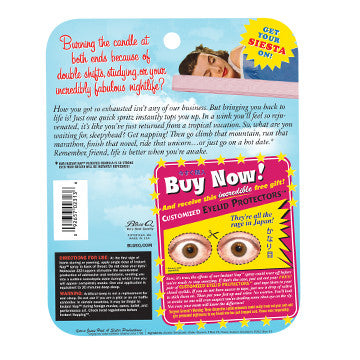 BlueQ Breath Spray "Instant Nap In A Bottle"
ALERT! BLUEQ NO LONGER MAKES BREATH SPRAY, SO THESE ITEMS ARE NOW COLLECTIBLE! GET YOURS NOW BECAUSE WHEN THEY ARE GONE THEY'RE GONE AND CAN'T BE REPLACED.
Instant refreshment! If you find it awkward to fall asleep for real at work or in school, this is your solution. Just spritz some Instant Nap into your mouth and you will instantly feel rested and refreshed, and your eyes will remain convincingly open! Party on!  And for when you want to close your eyes for real, don't miss the FREE eyelid protectors on the back of the package, which will make it look like your eyes are open even when they are closed. And, your breath will smell great even if your mouth gapes open while you are sleeping. Amazing. .25 fl.oz. of minty mouth spray. Ingredients include Alcohol Denatured, Water, Glycerin, T-Maz 20, Flavor, Sodium Saccharin, FD&C Blue #1. Made in the USA.