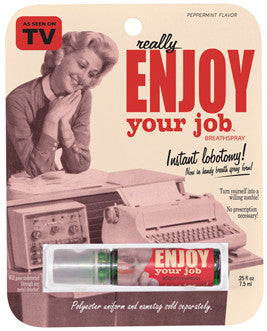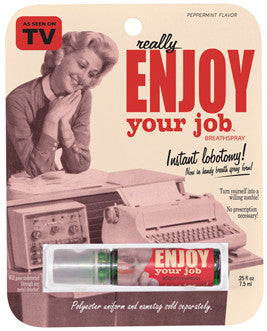 BlueQ Breath Spray "Really Enjoy Your Job"
ALERT! BLUEQ NO LONGER MAKES BREATH SPRAY, SO THESE ITEMS ARE NOW COLLECTIBLE! GET YOURS NOW BECAUSE WHEN THEY ARE GONE THEY'RE GONE AND CAN'T BE REPLACED.
Every employee below the level of CEO needs this breath spray! More enthusiastically interact with clients and colleagues while in your normal hibernative brain state. Draw more satisfaction from mundane, repetitive tasks. Smile when people don't say "Thank you." .25 fl.oz. of minty mouth spray. Ingredients include Alcohol Denatured, Water, Glycerin, T-Maz 20, Flavor, Sodium Saccharin, FD&C Blue #1. Made in the USA.