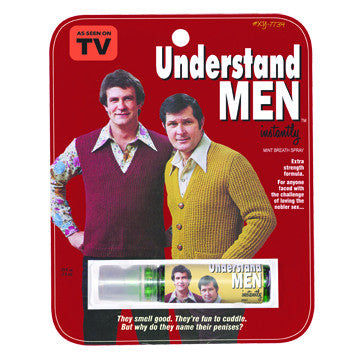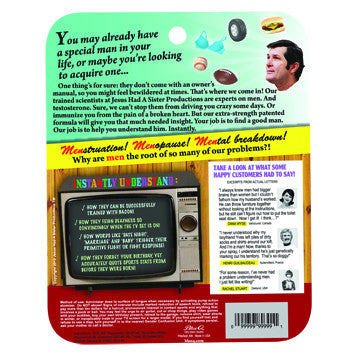 BlueQ Breath Spray "Understand Men Instantly"
ALERT! BLUEQ NO LONGER MAKES BREATH SPRAY, SO THESE ITEMS ARE NOW COLLECTIBLE! GET YOURS NOW BECAUSE WHEN THEY ARE GONE THEY'RE GONE AND CAN'T BE REPLACED.
If you have ever wondered why men name their penises then this spray is for you. Unlock the brain of every man you know, if you dare! Since men do not come with an owner's manual, this is the next best thing. Learn secrets like how to train a man with bacon. Finally understand how they can quote the batting average of a long retired baseball player but can't remember your anniversary. Find the secret switch which turns selective hearing on and off..25 fl.oz. of minty mouth spray. Ingredients include SDA 38F 190 Proof Peppermint #5, Deionized Water, Glycerin USP 99.7%, T-Maz 20 (Tween 20), Flavor, Sodium Saccharin, FD&C Blue #1.Made in the USA.