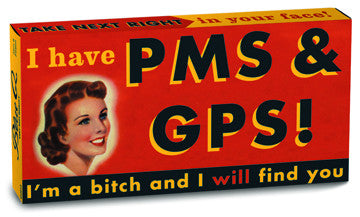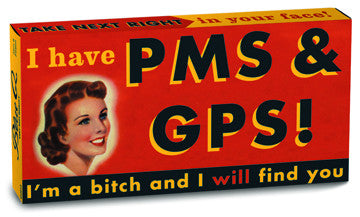 BlueQ Gum: I Have PMS And GPS! I'm A Bitch And I Will Find You
8 pieces of fruit gum, full of righteous self insight and confidence.
For a modest product, gum has a rather lengthy and interesting history. Since early civilizations, humans have enjoyed chewing various natural substances purely out of an instinctual desire to masticate, or sometimes to enjoy a particular taste or to help clean their teeth. 6000 year old chewing gum made from birch bark tar, with tooth imprints, has been found in Finland. While our gum isn't 6000 years old, I can promise you that it tastes better than the gum those early Norwegians enjoyed.
Ingredients: Sugar, gum base, corn syrup (glucose), dextrose, natural and artificial flavors, high fructose corn syrup, soy lecithin, aspartame, citric acid, acesulfame potassium, tapioca dextrin, gum arabic, confectioners glaze, carnauba wax, artificial colors (FD&C yellow 5, yellow 5 lake), corn starch, BHT (to maintain freshness), PHENYLKETONURICS: CONTAINS PHENYLALANINE. 
Made in Canada.