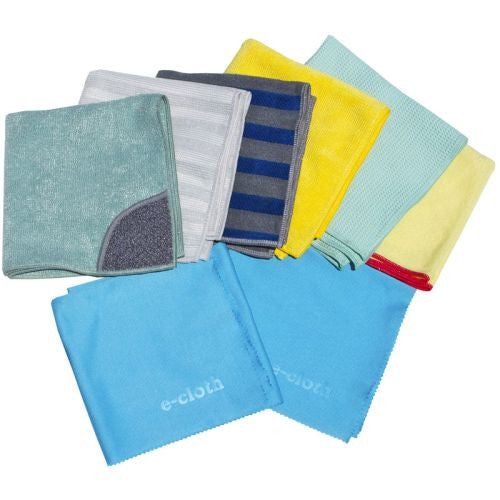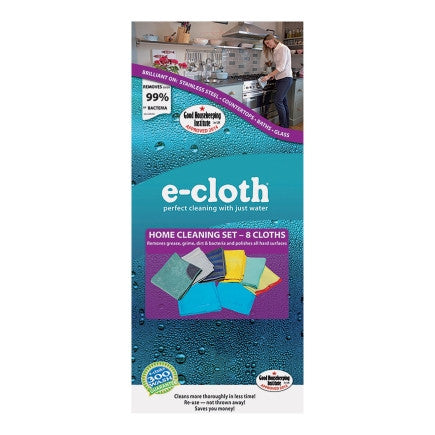 E-cloth 8 Piece Home Cleaning Set
This is the bomb of home cleaning-8 clothes to do every job perfectly, and it is also the most economical way to purchase these microfiber cloths.  Set contains a:
Kitchen Cloth with non-scratch scrubbing corner making it perfect for removing grease, grime, dirt and bacteria from all kitchen surfaces, plus the scrubbing corner for removing stuck on residue, just with water;
Stainless Steel Cloth for cleaning both brushed and polished stainless steel as well as chrome, just with water;
Range & Stovetop Cloth designed for removing tough grease, grime, bacteria, spillovers and droppings from in microwaves and around burners, stovetops and other stove surfaces just with water;
Bathroom Cloth is extra thick and absorbent, so it easily removes excess water along with soapy grime and bacteria from bathroom surfaces, just with water.  It is particularly handy to have an identifying label on these cloths so you always know which cloth is your bathroom cloth, which is your kitchen cloth, etc.
Window Cloth leaves glass and frames clean, streak free and lint free, just with water;
Glass & Polishing Cloths (2) makes sure there are no "film" on your glass windows and other surfaces by giving them a sparklingly clean finish, just with water. Use it dry on any surface after using any of the above cloths to enhance your final results.
Dusting Cloth makes that necessary chore easier because it has a natural positive charge that attracts dust and allergens.  Super soft fibers lift and trap dust and allergens from any hard surface.
If purchased separately, these cloths would cost over $60. With e-cloth you save time (no need to rinse and dry after cleaning) and money (no need to buy expensive cleaning chemicals), while enjoying better results and being kind to our environment and your family's health (since cleaning chemicals can create health risks for children and those who may suffer from allergies, asthma and chemical sensitivities). E-cloths can be washed 300 times and still retain their unique cleaning properties.  If you wash your e-cloth once per week, it should provide you with six years of money- and time-saving benefits.