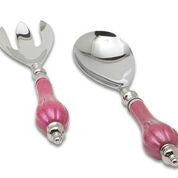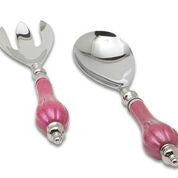 Julia Knight Peony Salad Serving Set in Raspberry
Objects of Desire is exiting the Julia Knight line from our inventory due to space constraints, so incredible deals are available on these outstanding products.
Each piece of Julia Knight's Peony serveware line is a unique, sculptural work of art. Serving utensils are crafted from the finest stainless steel and then each piece is hand painted with their trademark color enamel that is mixed with crushed Mother of Pearl for an especially lustrous finish.  Due to these hand crafted processes by skilled artisans, small variations will occur in the material, coloring and/or finish of the product, adding to the uniqueness and distinctive beauty of each piece.
Utensils are dishwasher safe, however you may prefer to wash these beautiful objects by hand.  Dry thoroughly immediately after washing to avoid spots from minerals that may be dissolved in the water.  Objects of Desire offers a complete line of e-cloth microfiber cloths which will clean, dry and sanitize your serving utensils using only water. 
Each salad serving set comes boxed in its own gift box stamped with the Julia Knight signature in gold foil accompanied by a care instruction card.