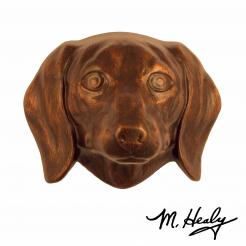 Michael Healy Door Knocker: Oiled Bronze Cast Aluminum Dog Knocker (Dachshund)
As an artist (Michael studied metal sculpture at the University of Notre Dame) Healy takes his craft very seriously, which is why he owns his own foundry in Rhode Island to execute his designs with unrivaled fidelity and attention to detail.  
The artistic process unfolds like this: he first sketches the dog head, then he sculpts it into a three-dimensional model which he uses to make an impression (or mold) of the model in fine sand.  He then pours molten aluminum into the mold. After the metal cools, the sand is broken away from the raw metal casting which is then subjected to multiple phases of grinding and polishing, adding accents and highlights to each piece or art.  Each piece of decorative hardware requires its own unique mold, as each mold is destroyed in the process of making each piece.  Finally, the almost-finished door knockers receive a baked oiled bronze polyurethane finish similar to the clear coat finish on your car to provide years of protection. Each piece is also signed by the artist.
This impressive door knocker measures approximately 6 inches high, 4 inches wide, and 3 and one-half inches deep.